Available Dogs The ideal forever home is one where the Westie is treated as a valued and beloved family member. Some of them have come from a life of neglect or abuse; they deserve the best life possible provided by people willing to put the time and effort into their care and love them unconditionally.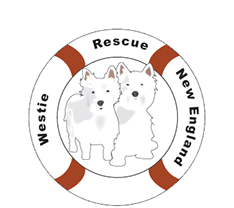 Maisie and Ozzy
(Bonded Pair)
These two cuties are approximately
10 and 6 yrs, healthy, up-to-date
on vaccines, good with other dogs
and people.
The perfect family would be full of love, kindness and patience to help them get over the recent death of their Dad.
Applicants please have westie experience, a secure fenced in yard, time for cuddles, walks and play. These two sweethearts have been through so much this is year and really need a person home with them during the day. They crave security, stability and a routine.
Who will have a happy tail next?
Watch this space for happy adoptions!
Pupdates are made weekly.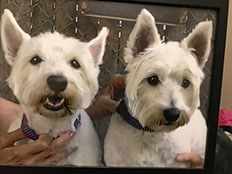 Gizmo and Herbie (Bonded Pair)
7 & 9 years old
Max and Finn (Bonded Pair)
8 years old
Sparky
Hello everyone, Sparky here. I'm feeling really safe here, getting a lot of love, attention, affection, play time, & walks. Think I'm really going to like it here. I'm learning how to play with toys, that it's ok not to bark at everything, & that I'm in a trusting, living environment. I've even been brushed some. Each day is a step forward & a learning experience, but my Westie brother Cody-James & his parents (Sharon & Jim) have a lot of patience with me.
Montgomery
aka "Monty"
These days you will find Monty being the king of his big yard. Monty's new space is securely fenced and he just loves his time outside.
His new family are kind, wonderful, patient, giving people, just want Monty needs. Thank you B & B, we are forever grateful to you for loving Monty and giving him a new beginning.
Brady
Congrats to our little Bichon buddy, Brady! Enjoy your furever home!
xoxo
Gilbert & Gabby
The bonded pair are so happy together in their new home!
Scooter
Congratulations to Scooter and his new family! Happy Happily Ever After!
Cash
Doesn't he look cozy (not to mention dapper) in his fun polka-dotted jammies?
Angel
This sweetie got the one present she asked Santa for:
a furever home! Congrats Angel!
Max
Living it up in Marblehead, MA with his rescue alumni brother Rory
Scout
Scout found himself a loving family, complete
with a doggie sister named Olive.
Billy
Another Korean rescue has found his happily ever after and we couldn't be more happy for Billy! Congrats!!
Katie and Abbey
These sweet girls are so happy in their new home
and so happy to stay together
xoxo
Rescue. Adopt. Love
Westie Rescue of New England, Inc. is a not-for-profit corporation formed to address the rescue needs of shelter, owner surrender and puppy mill dogs.
In 2010, Westie Rescue of New England received its 501(c)3 tax exempt status.