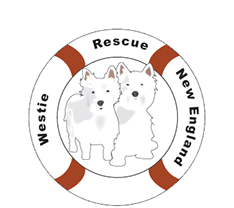 Saving One Friend
at a Time
Westie Rescue of New England Inc
is a non-profit organization dedicated to the health and happiness of all West Highland White Terriers.
Our Mission is to prevent cruelty, abuse or neglect of West Highland White Terriers. We provide rescue services, rehabilitation and medical treatment.
During their time in our care, our network of dedicated volunteers provide a warm, safe and healthy environment where the dogs can develop to their full potential while we search for their new "forever" home.
Our Rescue is staffed entirely by volunteers who donate time, money and resources to rescue, rehabilitate, place and transport Westies. All dogs are fostered in volunteers' private homes, as we
do not have a shelter.
To put it simply, we will drop everything to help a Westie in need.


Our Westies come from various places: city shelters, owner surrenders and puppy mills. Once rescued they are spayed or neutered and given the medical attention they may need—shots and treatment for illnesses or injuries. Westies that
can never be placed due to age or illness live out the rest of their lives
in our care.
Some of our rescues come from a life
of neglect or abuse and deserve a
chance at the best life possible...
a forever loving home.
It's All About the
Little White Dogs!